2013/10/16 22:19

JBL's PlayUp is a portable Bluetooth speaker that's been designed primarily for use with NFC-equipped smartphones. It has a colourful, quirky design and packs a pretty decent punch when it comes to sound quality.
The PlayUp is a joint collaboration between Nokia and audio company JBL. It's primarily been designed as an accessory for Nokia's Lumia 920, hence the matching bright colours. The PlayUp comes in white, black, yellow and cyan variants and its cylindrical shape makes it immediately recognisable.
1. The Design
The Predecessor, Nokia's Play 360′s were available in white, black and cyan blue, which were quite a few colors a year ago. With their flagship phone, the Lumia 920 being promoted in a shade of yellow, Nokia created the PlayUp in yellow, along with the same black, white and cyan blue versions. And just like the Play360 complemented the NFC capabilities of Nokia's latest Symbian Belle devices and the N9 at the time, the JBL PlayUp compliments the NFC capabilities of Nokia's latest Windows Phone 8 Lumia devices.
Weighing 760 grams and measuring 128 x 118 x 118 mm it's a bit heavier than the 360s which were 514 grams and 110 x 110 x 124 mm but is generally more rounded as well. And while the 360s had an aluminium-like design casing around the speaker, the JBL PlayUp has a plastic body with a rubberized finish all around, which makes it a bit more durable I'd imagine.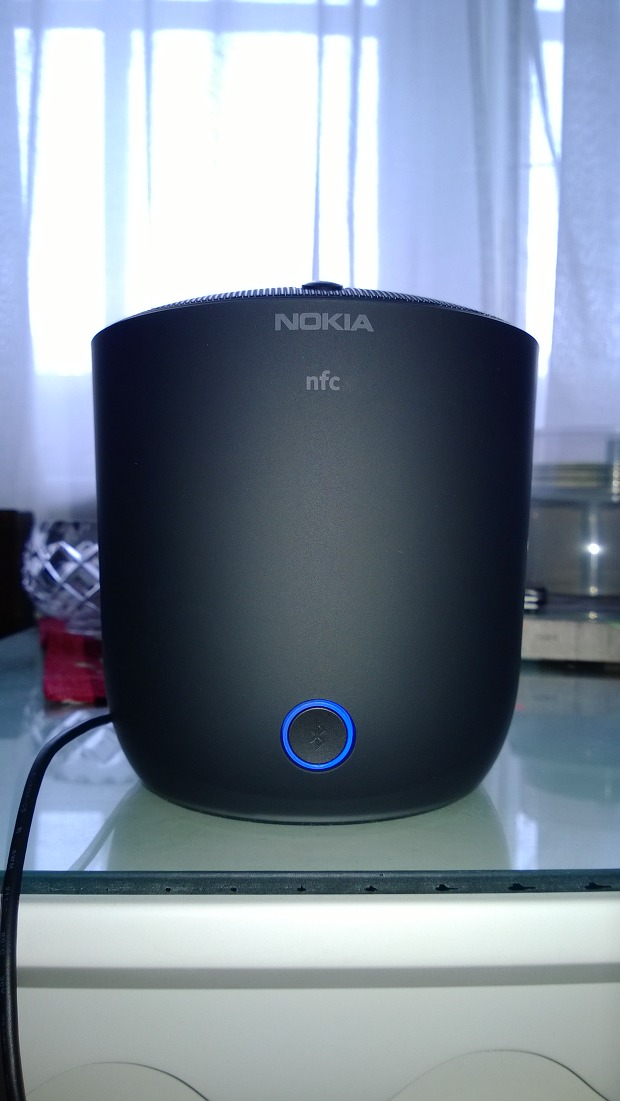 It's still light enough to dump into a backpack or handbag, and the rubber-ish finish does indeed mean it wont get scratched up or dented by various objects in your bag. Well, unless you have a knife in there or something, which would probably mean you have other problems to worry about.
Just like the Play 360s, the speaker on the JBL PlayUp is at the top for 360 degree sound. It's protected by a metallic speaker grille, with the JBL logo proudly in the center. You'll also find the volume rocker button here, and a battery indicator which lights up to let you know when your battery is running low or when charging.
At the front, you'll notice the Bluetooth button, which also lights up to indicate whether you're paired with a device (blue) or not (white), or in pairing mode (blinks blue). Bluetooth range is about 10 m.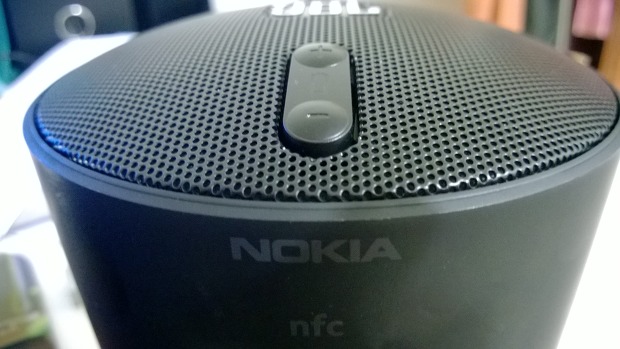 Towards the top of the front side, you'll also notice a very subtle Nokia logo with an NFC indicator underneath. This is where you can tap a compatible mobile phone like the Nokia Lumia 920, 820, 620, or an Android or Symbian phone that has NFC. Like in most cases, your device needs to be atleast 15 mm close to be detected. NFC on the PlayUps work great with the Lumia phones and even Nokia's Symbian phones but it can be a bit choosy about which Android phones it acknowledges. It didnt detect my HTC One X, but apparently works fine with the Nexus 4 (we've been told) for example. But that's more of an Android problem really.
Of course, you can also pair via Bluetooth as well, which isn't that hard but requires same basic procedure where you set the PlayUp to pairing mode, then go into your phone's bluetooth settings, find the PlayUp speaker in the list, and pair with it, yada yada. Not as convenient and quick as "Just Tapping" to pair using NFC, but it gets the job done.The PlayUp paired just fine over Bluetooth with almost anything: iPhone, iPad, Android or Windows Phone 7.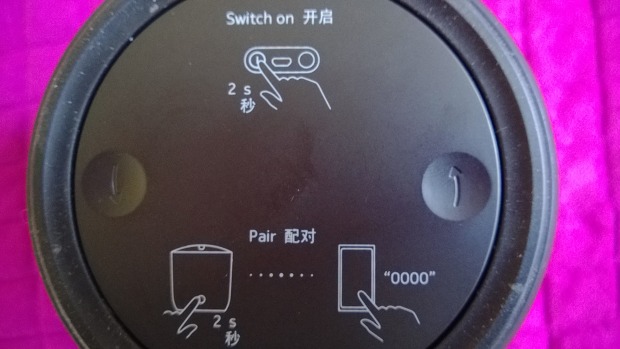 Not to forget, you can also connect using a standard 3.5mm audio wire, which is included and hidden away at the bottom of the PlayUp speaker. Simply twist to open the battery compartment cover, and you'll see the 1000 mm long audio wire wrapped around inside. It comes in useful incase you have an iPod classic or other PMP that might not have Bluetooth capabilities. Also worth nothing that the JBL PlayUp uses a Nokia BL-5J battery (which has been used in a couple phones earlier) and is rechargeable and can even be replaced.
At the back, you have a 3.5mm audio jack incase you'd want to use a wired connection instead of bluetooth, along with a microUSB port for charging, and a power button to switch it on or off.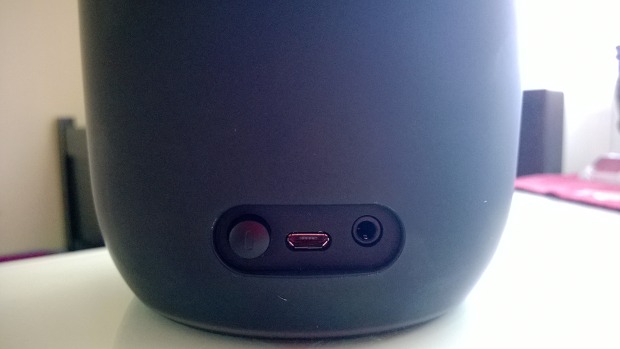 2. The Sound Quality
The JBL PlayUp has a maximum output of 89 dB, which is significantly more than the 75 dB managed by the (same) 2.5 inch peerless full range driver of the Play 360. Not too shabby at all.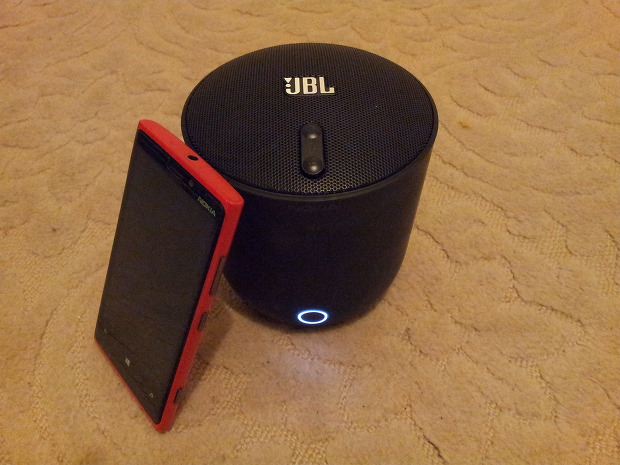 The specs also list apt™-X, Sub Band Coding SBC, and Digital Signal Process (DSP) as well.
But, Unfortunately, This product doesn't have the ability to pair two PlayUp speakers as

Predecessor.
If you're using a single speaker, you will ofcourse, have mono sound though (or as Nokia calls it '360 degrees omni-directional sound'). With the Play 360 speaker, if this was an issue, you could always just get another Play 360 and pair them together wirelessly but unfortunately that is not the case here with the JBL PlayUp. You dont have the ability to pair two PlayUp speakers together, nevermind pairing a PlayUp speaker with a Play 360.
This is a bit unfortunate considering how absolutely cool and useful this feature of the Play 360 was. Atleast you had the option of stereo sound, but not in this case. The good news is that you can still buy a Play 360 though, heh.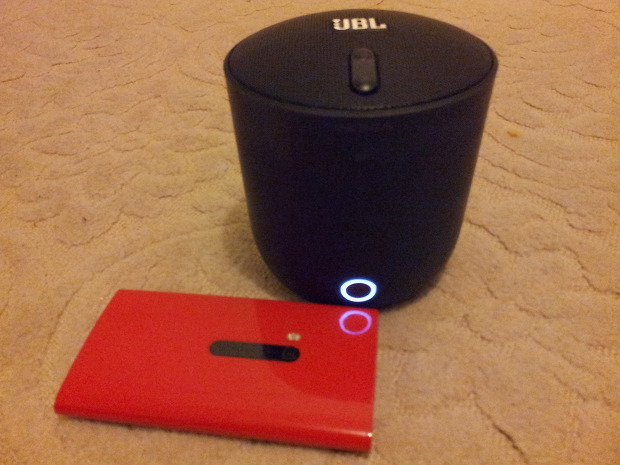 But even though it's just one portable speaker, the JBL PlayUp can very easily fill a room. This is mostly due to the fact that the sound driver is omnidirectional instead of straight. And for those of you that like technical specs, there's a frequency response of 85Hz – 22kHz (-6dB) and about 3.0 Watts of power.
It's not something you'd want for a rave or house party, but for a couple friends over, or a picnic or dinner party, it's just perfect. It's much louder than the Play 360 speakers as well. Bass levels are a little low (come on, what were you expecting from a speaker this size?) but are significantly punchier than the Play 360, which was pretty impressive, all things considering. There's also a bass reflex chamber that helps make sure the deep tones are richer than on most other portable external speakers we've listened to.
Additionally, vocals came in clear and loud, with no distortions in music even at the loudest setting. Very, very impressive, and very true to JBL in terms of audio.
We tested the JBL PlayUp with a variety of different music genres, and considering the size, it really was quite fantastic. My friends immediately remarked on how loud it was for it's size, and how rich the audio quality was, as well, for a portable. Honestly, there are some bedside audio docks that dont sound this good, heh.
Also worth noting is that the PlayUp does not have a microphone built-in. As a result, if you receive an incoming call on a paired mobile phone while you're playing music, the speaker will automatically mute the music while you answer you call on your phone. Once you finish, the music fades in. It would have been nice to use it as an external speakerphone of sorts, but it's not that big a deal to me personally.
3. The Battery Life
The Nokia JBL PlayUp is powered by a 1430 mAh BL5J battery which charges under two hours and if officially rated at 10 hours of usage.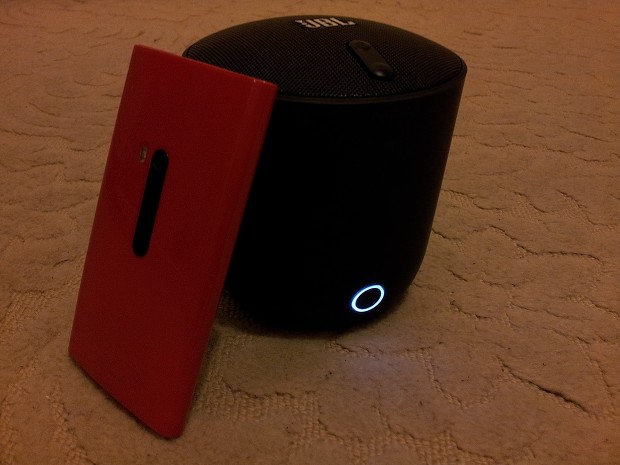 This is a bit disappointing compared to (you guessed it) the Nokia Play 360 which had up to 21 hours of playback time, but considering the much improved audio quality and generally more powerful speaker, I'd imagine it's forgivable. The speakers also have a power saving mode when it's inactive for over an hour. Chances are you'd probably never need more than 10 hours of continuous portable music unless you're having one really long picnic or family meet, heh.
3. The Video Overview

4. Conclusion
There's really not much to dislike about the Nokia JBL PlayUp. Audio quality is probably the best we've heard from a portable speaker in this price range, and the pairing process is straight forward and easy no matter if you're connecting wirelessly over bluetooth, or using a line-in wired connection.
The closest competition it has is the Jabra Solemate (which can go louder, upto 120dB, and is more portable, but audio quality isnt as great as the PlayUp) and the Nokia Play 360 speaker (which allows you to connect two, has better battery life but again doesnt have the same solid audio quality). Both are cheaper, but have their own pros and cons.
I'd say the JBL PlayUp is definitely recommendable if you're looking for a portable wireless speaker with solid audio quality. Currently costs about $149 - $180 on various online/offline retailers. If you're looking for a cheaper, wired alternative, there's the Nokia MD-11, but ofcourse the sound quality isnt anywhere as good. Or if you have extra dough, you could go for the Bose Soundlink speakers, which cost a lot more but have better sound quality as well.
At the end of the day though, the Nokia JBL PlayUp is a great portable speaker, that is available in vibrant, loud colors, can be connected to practically anything, and there's no messy wires. Battery life is more than decent and the sound quality is pretty great for it's size. You have the minimalistic styling of a Nokia design, with the solid audio of JBL. What's not to like?
Audio Quality
★★★★★★★★★★ 10 / 10

Design and form factor
★★★★★★★★★★ 10 / 10

Durability
★★★★★★★★★★ 10 / 10

Portability
★★★★★★★★☆☆ 8 / 10

Price / Value
★★★★★★☆☆☆☆ 6 / 10